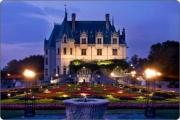 Listen in to a conversation about gardening and managing one of the largest estates in the United States, from the landscape manager at The Biltmore Estate Suzanne Woodell. The Biltmore Estate consists of 8,000 acres! Discover helpful tips for managing several acres, how to save money when trying to landscape large properties, how The Biltmore accomplishes show stopping beauty, preventing deer, managing weeds, and learn about the new flower carpet display coming soon to The Biltmore!
Click here to listen to Susanne Woodell
*This is a large audio file and may take a few minutes to download.