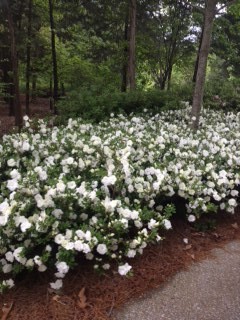 Do you have one of those spots in front of your windows that needs a low growing evergreen shrub? Do you wish you had some beautiful color along the sidewalk to your front door? My friend, let me introduce a relatively new azalea that may be a great choice for you. Hardy Gardenia Azalea, Rhododendron x 'Hardy Gardenia'. You may already have it in your yard or have seen in on campus. This beautiful white azalea is one of my favorites for a number of reasons.
It needs no pruning. The max growth is 3-4 feet high. Nice, I like a plant thats knows its limits!
It blooms, and I mean really blooms! This plant has white double flowers in the spring that are gorgeous. That is high on the "WOW factor."
It has little to no problems. Are you saying "low maintenance" yet?
The book says sun only, but I have them in full sun on campus and others in semi shade. In both locations they look great. Most plant growers are growing these in full sun in their nurseries, but they acclimate well to semi shade.
It sometimes blooms again in the late summer or early fall, and no, it is not an Encore azalea.
Planted in groupings, it is a snow of white flowers. The flower resembles a gardenia, but it is an azalea.
Let me know how you like it!
As always, we are planting to grow.
Jeff
P.S. Don't forget about the free pruning class on Saturday, May 18th. We will meet on the Quad at 9:30 on the morning. I will have free parking passes for all who come. When you arrive, pick up a parking pass and put it in your vehicle. I am looking forward to a fun morning.